Bernay is a medium-sized town in Normandy that lacks neither charm nor assets (see the 5 good reasons to come to Bernay and stay there ). If the Villa des Conquérants decided to settle in Bernay, it is for its setting but also its infrastructures, its economic, social and cultural life and its constantly developing dynamism. Among the attractions of this "City of Art and History", we find the many shops and boutiques of its historic city center, the lively streets with these magnificent half-timbered houses and a generous offer of restaurants of all specialties. . Discover some good restaurant addresses in Bernay for lunch and dinner!
Le Moulin Fouret, for a gastronomic break surrounded by nature
7 minutes by car from the Villa des Conquérants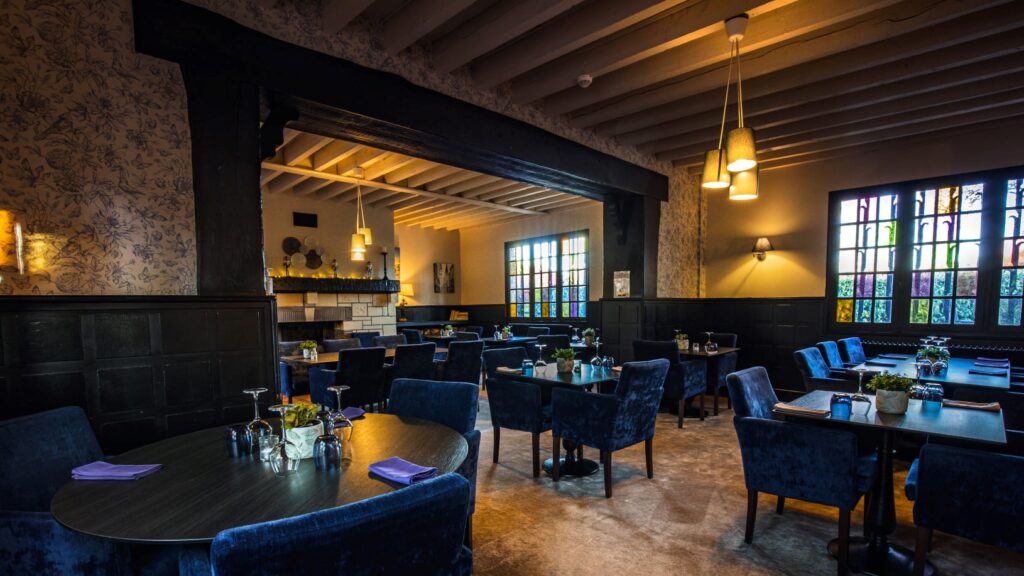 Treat yourself to a breath of fresh air a few minutes from the center of Bernay, in a large wooded park. It is in the middle of nature that you will find one of the tastiest addresses in the region: the Moulin Fouret.
A restaurant inn covered with Virginia creeper, with an ideal terrace for sunny days and above all, seasonal and gourmet cuisine. Taken over in 2018 by the young starred chef Cédric Auger, the former 16th century mill, surrounded by a 1 hectare park and crisscrossed by the Charenton river, pleases at first glance. Then it is on the plate that the favorite is confirmed: fresh products, always in season (BIB Gourmand Michelin 2020), for dishes that are both refined and gourmet: lobster cooked in 3 ways, Chapon de la Bec d'Or farmhouse, foie gras, wild fish or a farm goat's cheesecake… Everything makes your mouth water.
Little extras: a low-cost formula with a wide choice at lunchtime and the possibility of taking advantage of "click and collect".
Le Moulin Fouret – 2 route du moulin fouret 27300 Treis-Sants-en-Ouche
Open 7 days a week for lunch and dinner
emoulinpouret@gmail.com / Tel: +33 (0)2 32 43 19 95 / www.lemoulinpouret.fr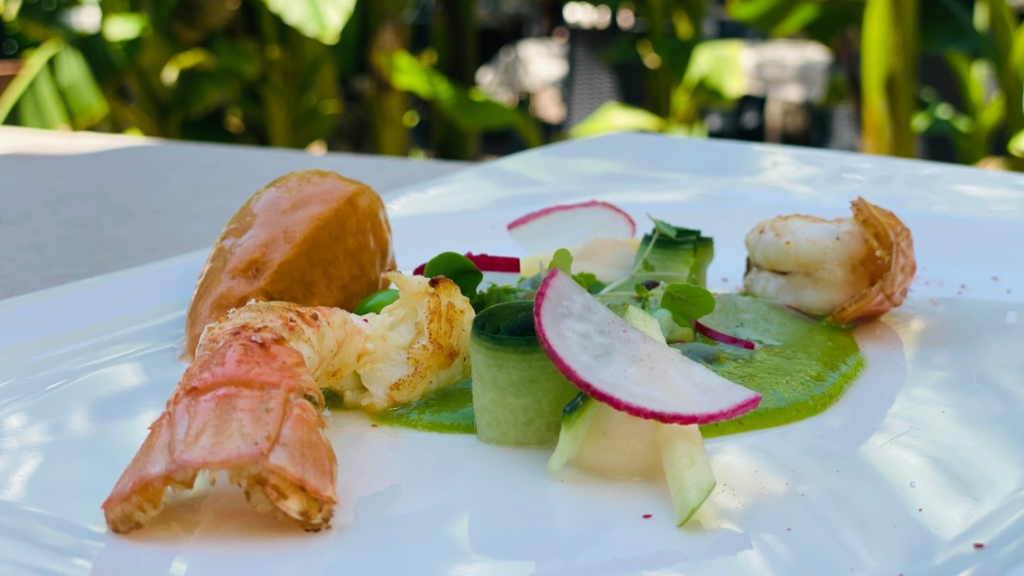 At PépéRosa, elegance on the plate and in the setting
5 min walk from the Villa des Conquérants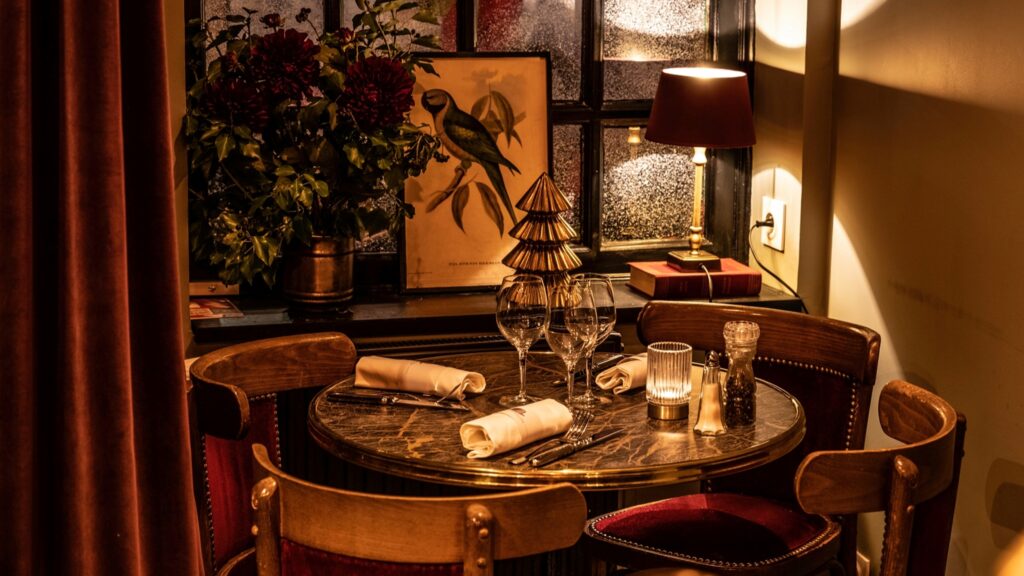 A few steps from Bernay train station, its Abbey and the Museum of Fine Arts, the bowler hat restaurant, Chez PépéRosa, offers a cozy and elegant setting to spend lunch or dinner in the greatest comfort.
Wooden tables and deep armchairs welcome you for lunch and dinner, all week long. The warm, chic and neat decoration perfectly complements a menu of refined and generous dishes, for excellent value for money. On the plate, dishes of pure French gastronomy (even Norman) and a menu that changes regularly, according to the seasons: taste for example cassolette of snails with truffle cream, pan-fried kidneys, lemon cheesecake or the Normandy tour revisited…
Little extras: the green terrace, much appreciated as soon as the good weather arrives and the bar.
Chez PépéRosa – 29 Boulevard Dubus 27300 Bernay
Open from Tuesday noon to Sunday noon
contact@chezpeperosa.fr / Tel: +33(0)2 27 19 92 39 / www.chezpeperosa.fr
Le Carpe Diem, the Brasserie where you feel at home
1 min walk from the Villa des Conquérants
In the heart of downtown Bernay, opposite La Poste and close to the train station, the Carpe Diem is a completely refurbished brasserie (formerly the Café de l'Agriculture), opened with a brand new team since March 2020. The decoration, both design and warm, which gives pride of place to plant motifs, immediately makes you want to push the doors of this establishment which is one of the few restaurants in the center to be open on Mondays.
And it's the content of the plate that makes you want to stay and come back. We come here to savor creative cuisine based on fresh and local products: snail casserole with garlic cream and mushrooms, back of cod a la plancha creamy emulsion with peas, piece of pan-fried beef in veal jus with chestnuts, trio of foie gras…
Little extras: a special Market version of the menu, Saturday lunchtime and a closed terrace with concerts all year round.
Le Carpe Diem – 38 Boulevard du General de Gaulle 27300 Bernay
Open all week, noon and evening, except Wednesday and Sunday evening
contact@carpediem-bernay.fr / Tel: +33(0)2 32 43 06 00 / www.carpediem-bernay. Fr
La Belle Histoire, lunch and gourmet breaks in a restaurant in a historic setting
3 min walk from the Villa des Conquérants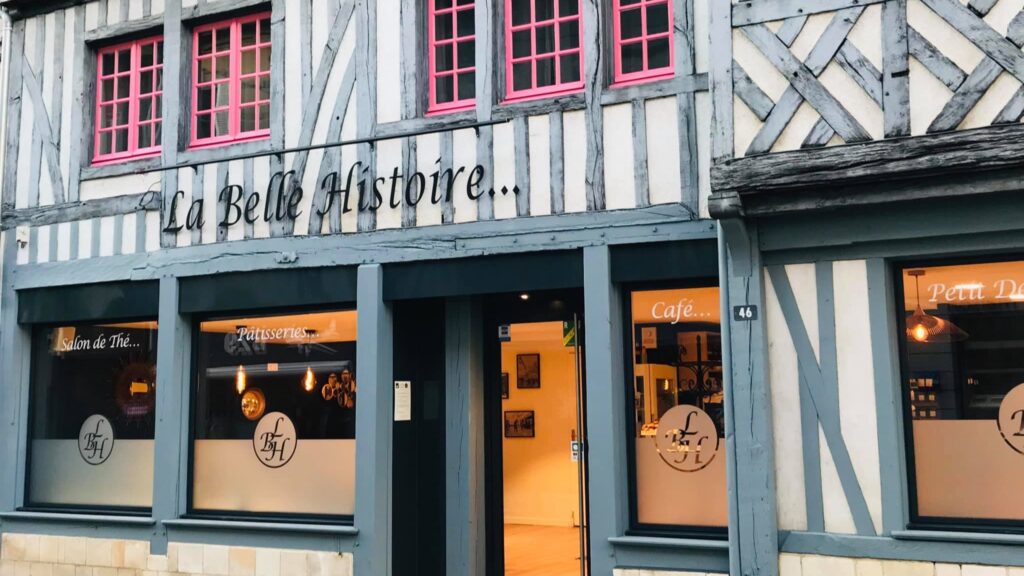 In the heart of one of Bernay's shopping streets, Rue Thiers, La Belle Histoire lives up to its name. Because, this tea room – restaurant is located in a historic house in the city, one of the oldest, dating from the 17th century, which has been completely renovated to accommodate customers with a little or a lot of hunger.
La Belle Histoire is also that of two passionate women, Michèle Moskwa and Sindie Bresciani, who joined forces to open a warm place in 2018, welcoming those who wish to have lunch at noon and those who fancy a tea and comforting pastries, all day.
Let yourself be tempted, depending on the season and the products of the moment, for a Savoyard burger, a Nordic tart, a mixed tuna salad or even a chicken blanquette with mushrooms.
Little extras: Homemade pastries and fresh fruit juices.
The Beautiful Story – 46 Rue Thiers 27300 Bernay
Open all week, noon and evening, except Sunday and Monday
infos@labellehistoire-bernay.fr / Tel: +33(0)2 27 19 62 45 / www.labellehistoire-bernay.fr
BoBo, 100 % Norman cuisine
5 minutes by car from the Villa des Conquérants
Open since August 2021, BoBo was born from an original and innovative project: to rehabilitate an old hangar to install a Third Place with coworking, workshop but also a shop of 100% Norman products and a restaurant of local cuisine.
Tom and Stéphanie, the couple at the origin of this "beautiful, good and good" place, are committed to offering only dishes created with local products, always in an original way. We then find on the plate, savory and sweet: butternut cocoa marble, black chickpea hummus, squash gnocchi, coconut spinach sauce, pointed cabbage, Kofta (beef / pork) cottage cheese sauce, apples potatoes & sautéed fruit…
Little extras: a large wooden terrace for eating or drinking and the organization of parties, performances, exhibitions, meetings…
BoBo, the beautiful, the good, the good – 20 rue des Canadiens 27300 Bernay, France
Open all week, noon and evening, except weekends
bobo.normandie@gmail.com / Tel: +33 (0)2 76 56 00 46 / www.bobo-normandie.com
—
Do you want to bring together your management committee, bring together your teams or your customers in an exceptional setting 1h30 from Paris by train? In the countryside, La villa des conquérants offers you a unique place with a whole range of sporting, recreational, gastronomic and cultural experiences to make you live unforgettable moments!
You are ready ? We are waiting for you ! Contact us HERE !